"I just wanted to say thank you to Chris and Scott for another great experience in you club fitting center and for a good deal on my new Callaway XR 3 Wood and 19* Hybrid"
MARK ETHERIDGE
"Chris and Scott were professional in selecting the right set of irons to match my swing plane. Club feel, visual assessment and most important, the metrics measuring distance, trajectory, and ball dispersion were evaluated. They will help you build images of achievements via there club fitting process. Thanks guys."
MICHAEL MULLIN
"I took my father-in-law and myself out to see Scott at 84 Golf Center about two years ago. The driver/iron fitting he gave us was phenomenal and changed both of our games. It took me a few years to gather the funds to eventually buy the clubs we settled on for me (thank you used golf shopping) but I have nothing but praise for Scott. It might not be the most convenient location for me to get to (I live near Irwin) but it's a nice place and worth every penny."
DAVE ROZELLE
"I went and did my fitting today with Scott at 84 Golf Center. Now let me preface this as it was my first professional driver (or anything for that matter) fitting. It was a joy to deal with Scott. He took some baseline numbers on flightscope with my drivers before we tried anything else. Then he started doing his magic. Handing me combo after combo. Let me take my time and get in somewhat of a early spring groove. Didn't push any particular brand on me (even though he is on staff for Tmag). It was a very eye opening and FUN couple of hours. He narrowed it down to one particular shaft and we tried a few different heads. Finally we settled on one combo and it ended up being quite a bit better than anything else. Heck my drivers weren't even in the top 10.
Anyone in the SWPA Tri-state area should not even think twice about heading to see Scott! Thanks again!"
DJ HARVEY
"I played 18 holes Sunday at Cedarbrook (Red Course – blue tees) and shot 70! I hit 15 greens, 8 fairways, and had 32 putts. I had 3 birdies and 2 bogeys. My longest birdie putt was around 6 feet. The key to the round was how good the bad shots were – missing my target but still on the green. My tee shots were a high fade – which I stayed with since I was keeping out of trouble. Thank you again for all of your help!!! I appreciate the extra time you spent with me on each lessen and will highly recommend your services."
BOB FURNIER
"Just wanted to say thanks.
Shot 42. BUT…. Driver was really good with slight draw and more distance. Missed 1 fairway because I tried to cut a dogleg and didn't catch it flush.
All 3 wedges made an appearance and were so much better. Distance control needs work, and my misses were slightly right of target. Need to play/practice to dial in the yardages and tweak my alignment. There is hope.
Thanks for getting me back on track."
ED TOURNAY
"I went out on the course today and put into play what we worked on. I haven't hit the ball that solid in a long time. Playing from the fairway seems to make the game easier. I only hit one moon ball right but think I know why and didn't do it again the rest of the day. Irons were solid too but of course, my putting sucked. I look forward to our next lesson. I'll be booking it soon. Have a great holiday weekend and thank you!"
JASON KEFFEL
"I just wanted to give kudos to Scott Pollock (Scott@84 as he is known here) for his work with me at the 84 Golf Center this past weekend. I've always wanted to get fit for irons but never trusted indoor analysis enough to spend the money. A friend recommended I reach out to Scott and set up an appointment, and boy am I glad I did!
Scott was friendly, professional, and enjoyable to work with. He started by asking what I was looking to gain (in this case whatever gave me the best results) what I felt my strengths and weaknesses were, and if I had any preferences. From there we spent nearly 2 hours trying various club head, lie, and shaft options reviewing the results from Flightscope coupled with the actual flight of the ball outdoors for each. In the end, we had it narrowed to two (both with CTapers…which is a shaft I never would have thought was right for me but clearly was) and again Scott took the time to walk through all the options, upgrades, and choices at hand.
Exhausted and sore, I came home excited to put my new Mizuno's in play as I anxiously await delivery knowing I'm going back for a driver soon. The only problem now is that when I struggle, it will be difficult to blame the arrow…
Scott – thanks for being patient and easy to deal with. I had a great time! If you're in the Pittsburgh area, I highly recommend a visit to the 84 Golf Center before you buy your next club."
CHAD DOBER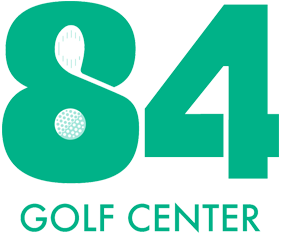 16 Golf Center Drive, Route 519 North, Eighty Four, PA 15330
Phone. 724-229-4002
Email. scott@84golfcenter.com